This page features things that I use on a regular basis that I couldn't imagine being without. Shameless plugs for products from which I receive no compensation. It's just good stuff that I love.
First up: Brooks Running Shoes. Currently, I'm running in the Defeyance 5.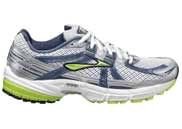 I have horrible feet for running. They are flat, with sloppy support structure. My right foot is more jacked up than my left foot. I wear custom orthotics, but it wasn't until I put them into Brooks shoes that I could run pain free. I choose a neutral shoe (the Defeyance is but one of Brooks' many neutral shoes) and let the orthotic do the correcting. No matter your issue (high arch, no arch, pronator, supinator), I'm sure there is a Right Shoe out there for you. In your shopping, be sure to check out www.brooksrunning.com.
My Garmin running watch. It's second only to my shoes. I accidentally left it at home a couple of runs ago, and felt blind. I mainly use it to know my pace and distance, but when I get home and upload to the internet I can see my full route on a map, along with elevation gains/losses, calories burned, lap times, etc. It's a fantastic tool.